ISB Collaborates with South Central Railway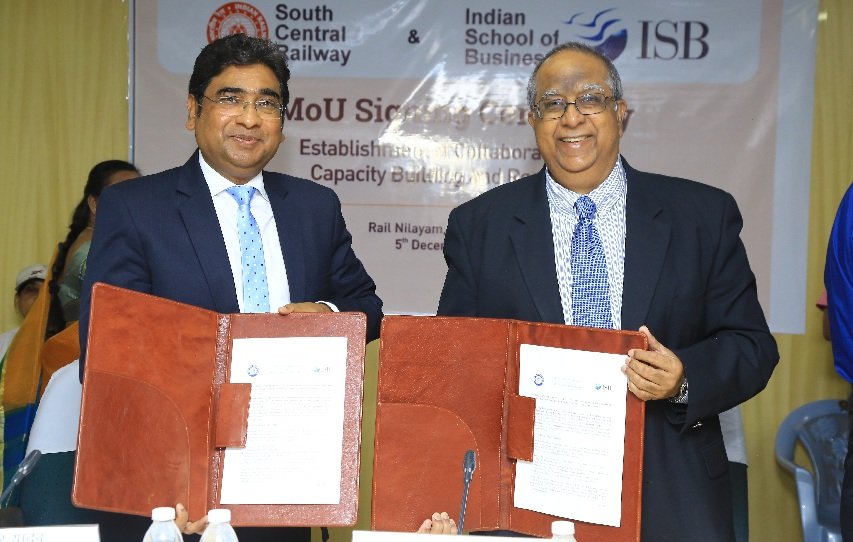 ISB has always strived to create leaders for India and in that stride has recently collaborated with the South Central Railway (SCR) for encouraging leadership, capacity building and joint research. On December 5th, 2017, the Dean of ISB – Professor Rajendra Srivastava exchanged the MoU with Shri Vinod Kumar Yadav, General Manager of South Central Railway (SCR).
The collaboration entails delivering leadership lectures and workshops to railway officers to enable a multi-disciplinary thinking. The leadership workshops are designed to cover competencies like strategy management, negotiations skills, organizational behavior, change management and so on.
The collaboration also entails capacity building workshops which would help railway officers become mindful of the latest trends and best practices in areas like infrastructure, project management, supply chain management, customer relationship management, marketing strategies, value added services, revenue management among others.
ISB and SCR will equally support each other in research as part of the MoU. Crucial issues like Brand Capitalization, Customer Satisfaction, Operational Efficiency, Business Innovation etc are to be explored by both parties.
Both ISB and SCR are certain of the immense benefit of this collaboration in infusing better managerial practices and eventual success of the organization. The first leadership lecture was delivered by the Dean, Professor Rajendra Srivastava himself. In attendance with the railway officers was Shri John Thomas, Additional General Manager of SCR. This collaboration is a testament to ISB's resolve to nation building.