ISB Leadership Summit – 2017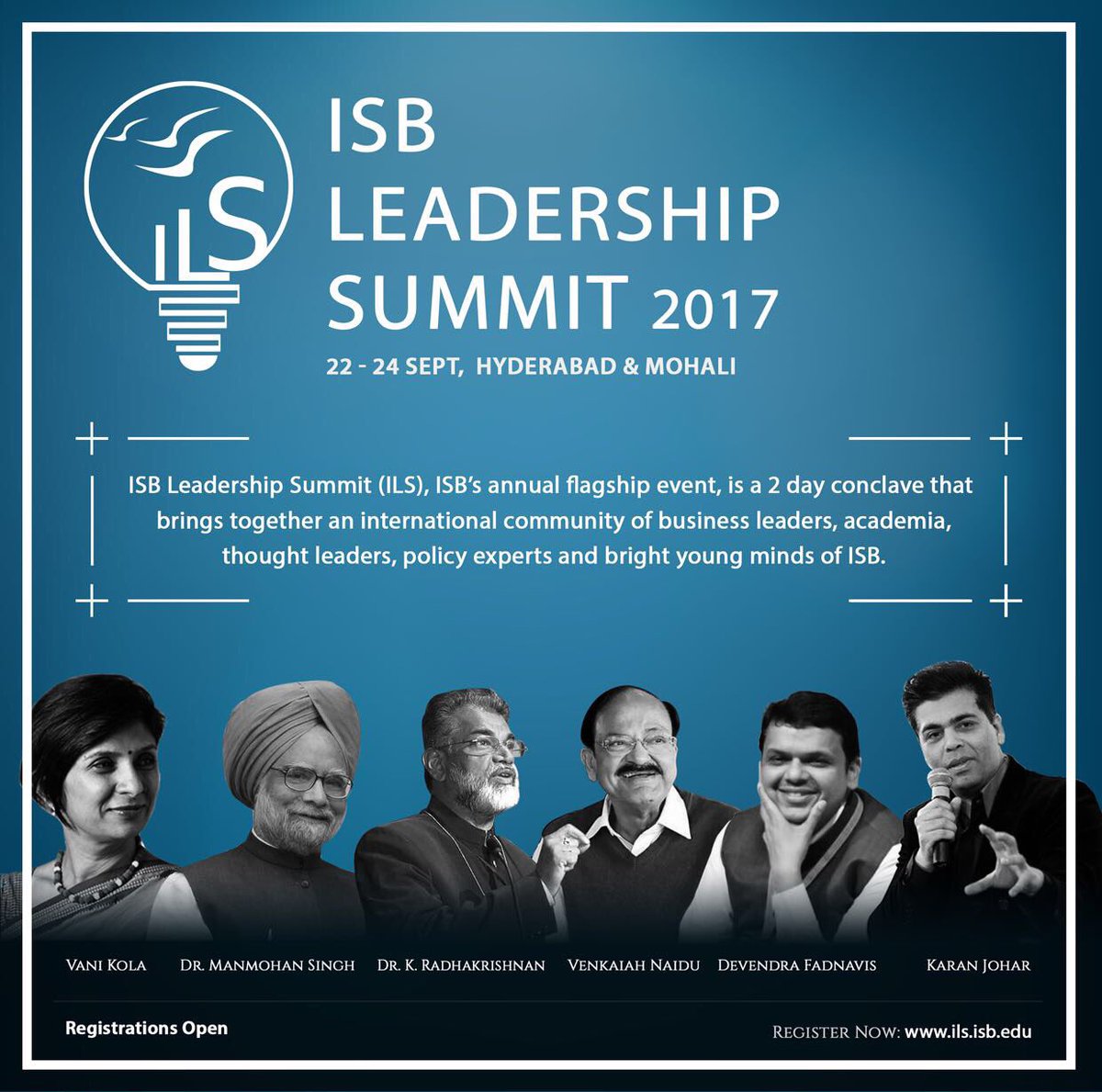 The ISB Leadership summit scheduled for September 22nd to 24th, 2017 is a much-awaited program for business leaders. The summit is a gathering of an international community of business leaders, academicians, experts, policy makers, entertainers, sportspersons and the brilliant ISBians. The summit would be held on September 22nd to 23rd in Mohali and September 23rd to 24th in Hyderabad.
The idea of the summit is to bring together numerous thought leaders who can discuss ideas and bring about means to conceptualize it. 40 speakers have been selected to be a part of this summit. Some notable personalities speaking in Hyderabad are Devendra Fadnavis (Chief Minister of Maharashtra), Dr. K. Radhakrishnan (Former Chairman of ISRO), Karan Johar from the entertainment sector, Punit Goenka (Managing Director and CEO of Zee Entertainment Enterprises), Vani Kola (Managing Director of Kalaari Capital), Dr. Ajay Bakshi (Managing Director and CEO of Manipal Health Enterprises), Kulmeet Bawa (Managing Director Of Adobe Systems – South Asia), Viren Rasquinha (CEO, Olympic Gold Quest and Former Captain of Indian Hockey Team), Vivek Prabhakar (Founder and CEO of Chumbak), Amuleek Singh Bijral (Co-founder and CEO of Chai Point) and others.
Some speakers in the Mohali campus include M. Venkaiah Naidu (Hon'ble Vice-President of India), Dr. Manmohan Singh (Former Prime Minister of India), Dr. Kiran Bedi (Lieutenant Governor of Puducherry), Sunil Kant Munjal (Chairman of Hero Corporate Service Private Limited), Aruna Rao (CTO of Kotak Mahindra Bank), Dr. Alexander Evans (British Deputy High Commissioner) among others.
ISB has ensured to include notable personalities from ever sector to inspire the audience and envision a bright future. With Q & A sessions, networking lunches and dinner and informal breakout sessions, delegates would have plenty opportunities to interact with the speakers of the event. People interested can buy tickets on various booking platforms at just INR 3500 per person (which does not include the special networking dinner pass).